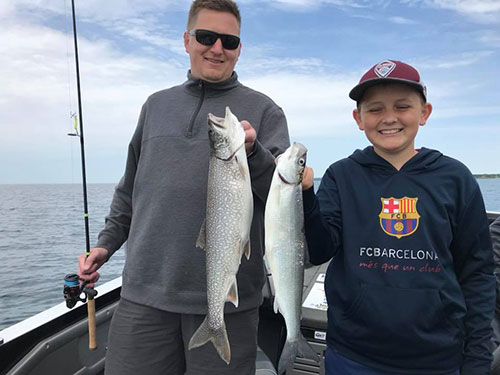 By: Capt. Chad Dilts
We at Sport Fish Michigan have been eagerly awaiting the arrival of summer, and with July upon us, it is finally time for some consistently warm weather and great fishing opportunities.
With the warming weather trends in June we are seeing the start of a very defined thermocline in the Grand Traverse Bay's, forcing the majority of the lake trout, cisco and other predatory species away from the shallow water flats and steep breaks where they have spent most of May and June.
This is an exciting time for anglers looking to vertical jig for a variety of species. Some of the best lake trout jigging in July will take place in depths ranging from 80-110 ft of water. Finding isolated humps and steep drop offs just adjacent to deep water is almost always the most productive place to concentrate your efforts. When utilizing your electronics to find active fish, don't be afraid to set up over 1-3 individual fish marks, some times these can be the most aggressive fish to take advantage of. Jigging spoons such as Jonah Jiggs, PLine Jigs and Swedish Pimples in a 1-2 ounce size are a great option for this presentation.
With the southern end of Lake Michigan experiencing such great numbers of king and coho, July is setting up to be an incredible time to take advantage of some good salmon action in the northern Lake Michigan ports. Anglers looking to either troll or jig vertically for these hard fighting fish should definitely not miss out on the opportunity. Success will be found in areas with a define thermocline that periodically presents schools of bait fish. With the moderately cooler Lake Michigan water temperatures we have experienced in May and June, most of the active salmon will be found 60-120 ft down depending on the port and wind direction. We are very excited to see such great numbers of salmon with a very good average size. Anglers have been consistently reporting fish in mid to upper 20 lbs range. We hope all anglers have a safe and successful July, we hope to see you on the water!