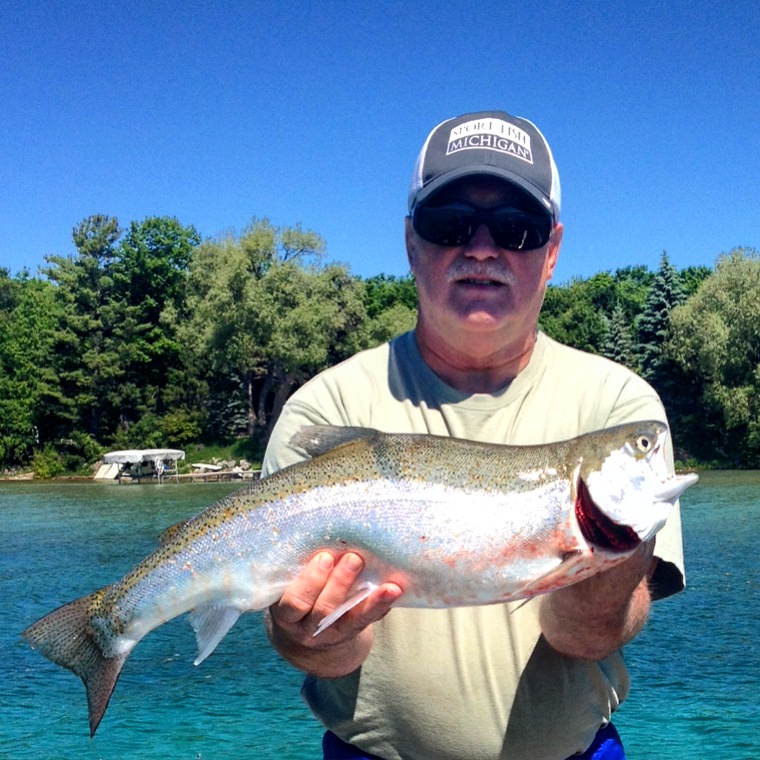 Fishing in July is always a fun time to be out on the water here in northern Michigan. Opportunities abound across our northern waters, and anglers can find great success on many of these waters most days.
For trout anglers, the magnum hexagenia mayflies are still hatching, and trout anglers know that these big bugs are like candy to trout – really big trout. Early in the morning, or fishing into the night produce the best results for trophy brown trout, but rainbows and brooks will eat these bugs with abandon as well. Later in the month, once the mayflies have stopped hatching, trout anglers may have to switch gears to fish smaller nymphs, but a well- stripped streamer can still draw vicious strikes.
On the inland lakes, everything it seems also eats the magnum mayflies. Smallmouth bass can be caught on topwater lures early in the day and again at dusk. Poppers and walking style baits seem to do the best when fishing for smallmouths that are looking for bugs up on the surface. Personally, I love using a feathered treble hook on the rear of all of my topwater baits. I think that the feathers more
closely resemble a mayfly just below the surface.
Platte Bay has great lake trout action in July; both
for boats that want to troll as well as those that prefer to 
vertically jig. With the summer water temperatures still
rising, lake trout are down deep, anywhere from 120 to
150 feet. Trolling covers lots of water, and the typical
cowbell and spin-n-glo combination is a tough one to beat.
 Spoons also produce extremely well when fished close to
the bottom where lakers tend to hang. Those preferring to
vertically jig for lake trout will likely need to spend some
time idling over the deep breaks, inside turns and points to
find schools of fish. And when the schools can be located,
action is often hot when using jigs over an ounce. Jonah Jigs have been a staple in my box the past few seasons, as well as large Elk Rapids jigs.
Grand Traverse Bays fish very well in July, and there are lots of places to fish on these big bodies of water. Lake trout action is outstanding, with lots of bites from the slot sized fish as well as larger fish over 34 inches, which must be released as per the new DNR regulations this season. Salmon have begun to show, and charter boats have reported a couple of bites per trip, and a few are being brought boat-side. Vertically jigging is another great option in July, and the lake trout have concentrated in deep waters. The deep break south of Marion Island is a community hole, but for good reason as it almost always produces well. 85 to 120 feet are prime places to start for Grand Traverse Bay lake trout. The standard jigging spoons used for Platte Bay work wonders here, too.
Grand Traverse Bays are so diverse in their fishery; it's a treat to be able to fish it almost daily. Walleyes, smallmouth bass, pike, muskies, whitefish, yellow perch, rock bass, lake trout, ciscos, burbot, carp, suckers, steelhead, brown trout and salmon all make these waters home. Some months are better than others for certain species, but July is still a great time to fish for many of them.