11.03.2014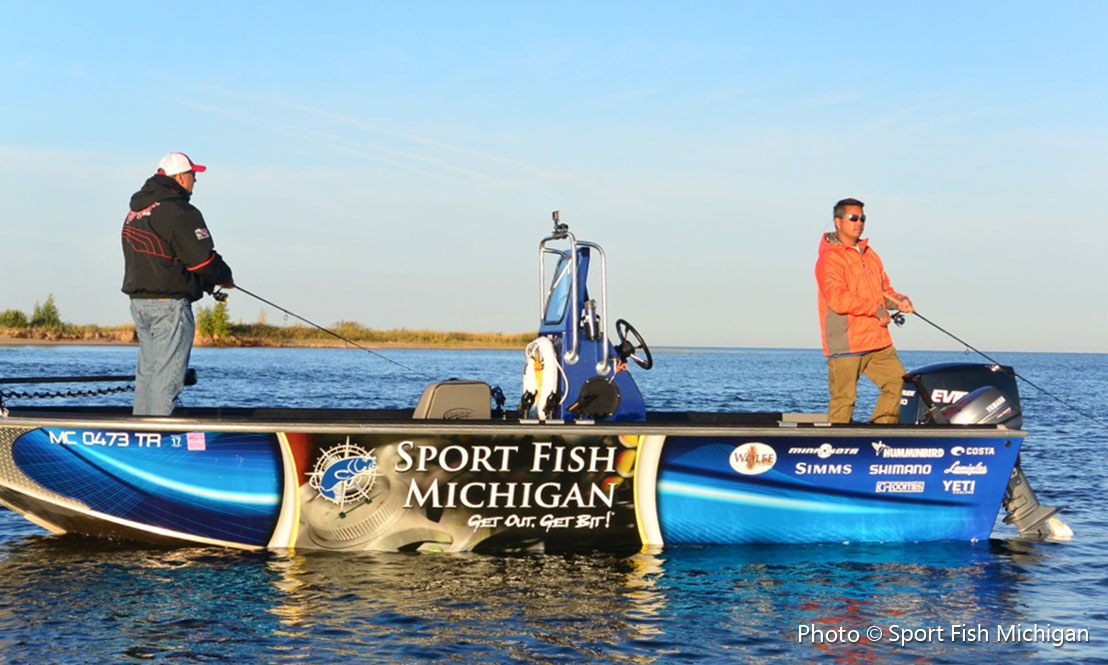 Hook N' Look's Kim Stricker is enjoying a nice fall day on the water with Capt. Ben on Platte Bay in the Sleeping Bear Dunes National Lakeshore.
Salmon and Lake Trout Trolling
Frankfort
Trolling in Frankfort when the weather has allowed has been pretty good for 2 and 3 year old king salmon, steelhead and the occasional brown trout. The cold water has fish feeding heavily when the winds are down. Steelhead are in the top portion of the water column, and can be targeted just a few feet down with body baits and flashy spoons with gold or orange. Salmon can be trolled quickly this time of year, with a slightly faster speed often producing quality bites.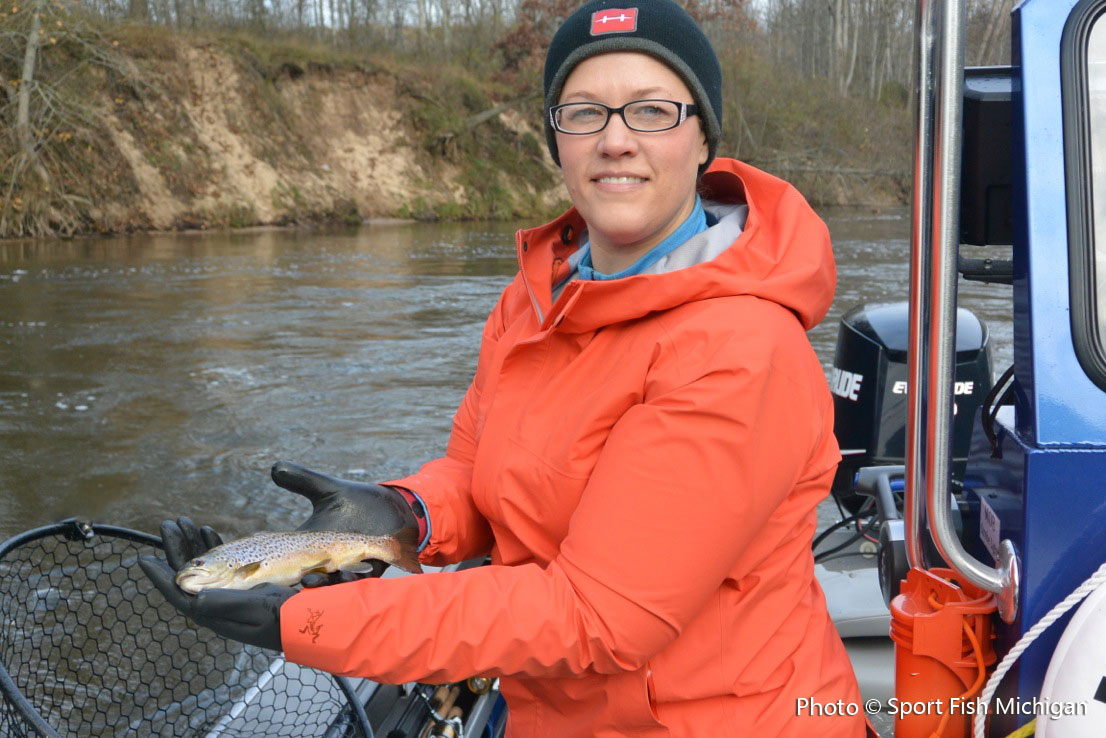 Mae with one of the many trout she landed while fishing with Wolfe Outfitters on the Manistee River.
Michigan River Fishing
Big Manistee River (Lower)
Salmon season is over, aside from a few holdover fish on gravel. Steelhead is the name of the game now, but there aren't tons of steelies in the Manistee just yet. While there are definitely some fish in the river, fishing hasn't been gangbusters as hoped. Trips are yielding a few bites per outing, but action has been bolstered by a great trout bite when fishing close to Tippy Dam. Fishing with spawn bags or beads under a float has been the best option lately. Fly anglers fishing egg patterns and beads under a float have also seen action. Hopefully the recent snow and windy weather will trigger another push of fish, giving anglers more great days on the water.
Capt. Jeff Mallory, Wolfe Outfitters/Sport Fish Michigan
Betsie River
Steelhead are in the Betsie, and fish are running large when they can be found. Fishing above Kurick road is closed now for the closed trout season, but there are plenty of steelhead opportunities below Kurick. Float fishing with beads has been producing in the slower water just below gravel areas.
Recent higher waters have given the river some stain, and brighter flies or beads can be key. The hard north winds and rain/snow mix should bring fresh chromers into the river.
Capt. Jeff Mallory, Wolfe Outfitters/Sport Fish Michigan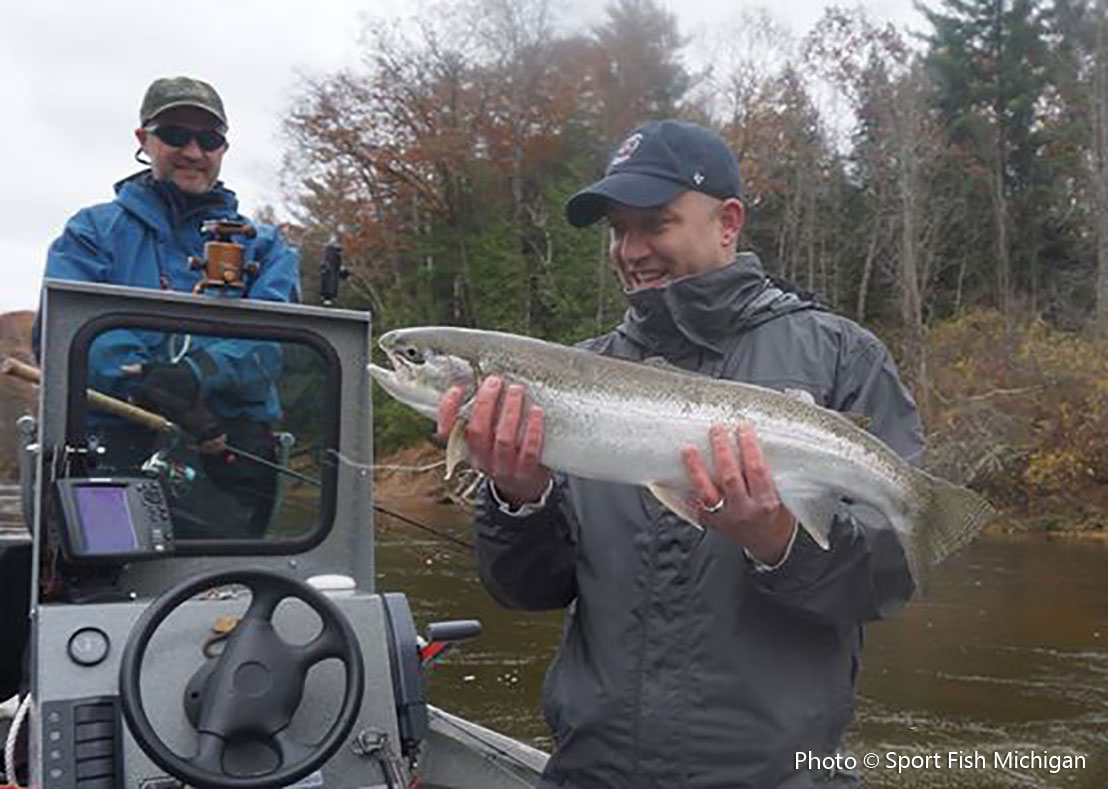 Steelhead are in the rivers, and the action is heating up! Not bad for John's first-ever steelhead caught while fishing with Jeff Mallory and Wolfe Outfitters! Great job!
Northern Michigan Inland Lakes
The fall bass bite is on, and some of the best fishing can be when it's nasty out. Traditionally, snow or sleet squalls can produce a red hot bite, helping to keep anglers warm during what is otherwise a chilly time of year. Fast moving baits like lipless crankbaits can trigger reaction bites from big bronzebacks and largemouths. Deep diving crank baits can also produce well when fished around isolated cover, and underwater points or humps. Some of the biggest bass of the year come now, and as the inland lakes cool more quickly than the bigger water of the Grand Traverse Bays, action has been dynamite when the wind and weather allows anglers to get out. When fish aren't willing to chase down fast moving baits, crawling a tube or a drop shot rig can pay off handsomely. Blade baits will come into play as water temps drop into the upper to mid 40's. Care should always be taken when heading out onto the water this time of year, but when the weather cooperates, the fish usually do as well.
Capt. Ben Wolfe, Traverse City Bass/Sport Fish Michigan